Updated Jan. 3, 2017
Shenandoah Valley Black Heritage Project
Happy New Year!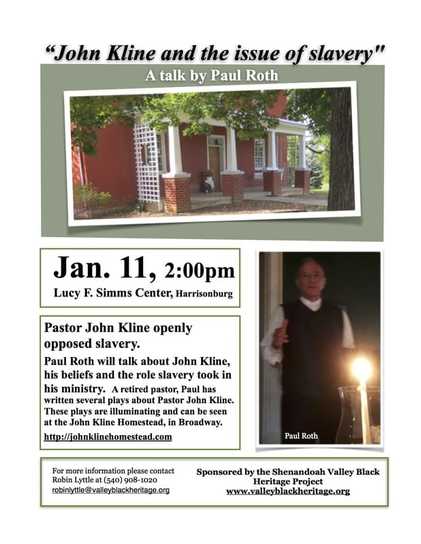 Jan. 11, 2:00pm
"John Kline and the Issue of Slavery" with Paul Roth

Feb. 2, 7:00pm
"African American Property Ownership Downtown Harrisonburg, 1850-1860"
a talk with author Ryan Bachman

Feb. 8, 2:00pm
"Mapping R4 +" A new project connecting the photos to the map and history.

Feb. 11, 4:00pm
"An Afternoon with Frederick Douglas" with poet Nathan M. Richardson.

Feb. 18, 7:00pm
"Zenda's Homecoming"
An original production.


​All Events at the Lucy F. Simms Center, 620 Simms Ave., Harrisonburg, VA 22802
---
We've had some amazing donations!
Many Thanks to Everence Financial for their generous donation of $250.00 through the good work of the Carpenter's Guild and for adding our organization to their list of charitable organizations. It is truly an honor to be recognized by them!​
Eagle Carpet made a generous donation of vinyl flooring for 425 Hill Street!
We want to thank Beau Dickenson and Rosemarie Palmer for their recent donations!
---
LISTEN AND ENJOY!
I am always amazed by the talented musicians of the Valley.
Here is 95 year old, Wallace Redd. He visited with us in March of 2016 and performed like he was 20 again.

| | | |
| --- | --- | --- |
| Some of the Valley's most talented musicians joined us in March. Wallace Redd, Annie Toles and Robert Jackson's can be heard here and on our Musicians page. | | |
---
It's Official! We have received our not for profit status and our 501(C)3 application has been approved! Go to the Latest page to learn more and the Contact/Donate page to make a donation!
---
The year has been filled with wonderful events and more to come!

Go to our Latest page to see photos of events and information on our upcoming events.
---
NEW ADDITIONS:
We have received more copies of photos . Special Thanks to Twila French, William Martin, Betty Lou Winkey and Dorothy Dickerson for their recent donations.

---