Updated Feb. 1, 2017
Shenandoah Valley Black Heritage Project
Black History Month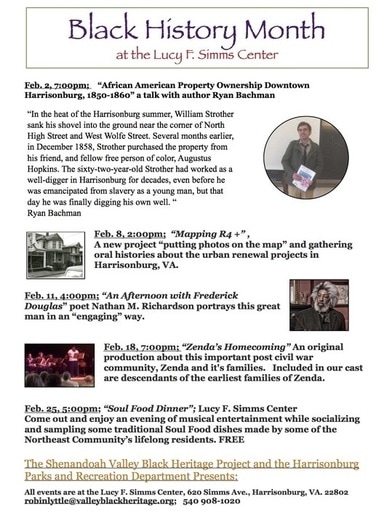 Feb. 2, 7:00pm
"African American Property Ownership Downtown Harrisonburg, 1850-1860"
a talk with author Ryan Bachman

Feb. 8, 2:00pm
"Mapping R4 +" A new project connecting the photos to the map and history.

Feb. 11, 4:00pm
"An Afternoon with Frederick Douglas" with poet Nathan M. Richardson.

Feb. 18, 7:00pm
"Zenda's Homecoming"
An original production.

​All Events at the Lucy F. Simms Center, 620 Simms Ave., Harrisonburg, VA 22802
---
More Black History Month Programs
If you have a program or event you would like us to add to our calendar, please contact us at: robinlyttle@valleyblackheritage.org
The Shenandoah Chapter of Coming To The Table sent us the email below about upcoming events, including a great program at Belle Grove Plantation and Corhaven Graveyard's book club which starts Feb. 9.
SATURDAY, FEBRUARY 4, 2017, 1:00 – 2:30 P.M. – BELLE GROVE
PLANTATION
SEE ATTACHED FLYER and visit
https://www.nps.gov/cebe/planyourvisit/calendar.htm
In association with the National Park Service, Belle Grove Plantation,
and the Warren-Page Branch of the NAACP, all will celebrate Black
History Month.
The program will include brief remarks from the Belle Grove Plantation
and the Warren-Page Branch of the NAACP and celebratory music. Then
the Cedar Creek and Belle Grove National Park Ranger, Shannon Moeck,
will lead a 30-minute program, "Kneading in Silence: A Glimpse Into
the Life of Judah the Enslaved Cook in the Belle Grove Winter
Kitchen."
LOCATION: 336 BELLE GROVE ROAD, MIDDLETOWN, VIRGINIA 22645
THURSDAYS, FEBRUARY 9 THROUGH THURSDAY, JUNE 29, 2017 – BOOK CLUB -
ONLINE AND AT CORHAVEN IN QUICKSBURG, VA.
CORHAVEN GRAVEYARD BOOK CLUB - Thursday evenings, beginning February
9, 2017 through June 29, 2017 at Corhaven (PLEASE SEE ATTACHED
SCHEDULE OF RELATED EVENTS). The community is invited to participate
in a book club, focused on self-education surrounding issues of
historical and modern enslavement, racial injustice and white
privilege, and other similar topics that lead to a better
understanding for the purpose of transforming race-relations. Our
first book, "Twelve Years a Slave," is the autobiography of Solomon
Northup, a free African American kidnapped and sold into slavery prior
to the American Civil War. _THERE IS AN ON-LINE COMPONENT FOR THOSE
THAT CANNOT MEET IN PERSON_. For more information, contact Sarah Kohrs
at
senkohrs@gmail.com
or (434) 922-2029 [1].
LOCATION: 2883 QUICKSBURG RD, QUICKSBURG VA
SATURDAY, FEBRUARY 25, 2017, 10:30 A.M. COMING TO THE TABLE
(
WWW.COMINGTOTHETABLE.ORG
) SPONSORED EVENT – FRONT ROYAL
This "_NOT TO BE MISSED" _ Coming to the Table event will feature
a presentation conducted by Betty Kilby Baldwin (a descendant of the
enslaved) and Phoebe Kilby (a descendant of enslavers).
TITLE: COMMON GRACE (PLEASE SEE ATTACHED FLYER)
FOCUS: Working Toward Healing . . . .Seeking to acknowledge,
understand and heal the persistent wounds of intergenerational
race-based harms – from slavery to today.
LOCATION: SAMUELS PUBLIC LIBRARY, 330 E. CRISER RD., FRONT ROYAL,
VIRGINIA 22630
MORE EVENTS THIS WINTER/SPRING
SATURDAY, MARCH 25, 2017, 1:00 P.M. (TO BE CONFIRMED)
COMING TO THE TABLE FEATURED SPEAKER: DR. DEBORAH LEE (PLEASE SEE
RESUME ATTACHED)
FOCUS: RELIGION AND THE ANTI-SLAVERY MOVEMENT – Black and White
activists among Episcopalians, Baptists, Methodists, Presbyterians,
Quaker, and Church of the Brethren.
LOCATION: HISTORIC ST. THOMAS CHAPEL, 7854 CHURCH ST., MIDDLETOWN,
VIRGINIA 22645
JUDITH R. JAMES, CO-CHAIR, SHENANDOAH VALLEY CHAPTER OF COMING TO THE
TABLE
WILL HAIRSTON, CO-CHAIR, SHENANDOAH VALLEY CHAPTER OF COMING TO THE
TABLE
PLEASE VISIT OUR WEBSITE:
WWW.COMINGTOTHETABLE.ORG
April 22, Brocks Gap Heritage Day in 2016 will be April 22.

Speakers include Peggy Shifflett and Joe May.
---
LATEN BETHEL'S LATEST BOOK IS OUT! Details to follow.
---
We've had some amazing donations!
Many Thanks to Everence Financial for their generous donation of $250.00 through the good work of the Carpenter's Guild and for adding our organization to their list of charitable organizations. It is truly an honor to be recognized by them!​
Eagle Carpet made a generous donation of vinyl flooring for 425 Hill Street!
We want to thank Beau Dickenson and Rosemarie Palmer for their recent donations!
---
LISTEN AND ENJOY!
I am always amazed by the talented musicians of the Valley.
Here is 95 year old, Wallace Redd. He visited with us in March of 2016 and performed like he was 20 again.

| | | |
| --- | --- | --- |
| Some of the Valley's most talented musicians joined us in March. Wallace Redd, Annie Toles and Robert Jackson's can be heard here and on our Musicians page. | | |
---
It's Official! We have received our not for profit status and our 501(C)3 application has been approved! Go to the Latest page to learn more and the Contact/Donate page to make a donation!
---
The year has been filled with wonderful events and more to come!

Go to our Latest page to see photos of events and information on our upcoming events.
---
NEW ADDITIONS:
We have received more copies of photos . Special Thanks to Twila French, William Martin, Betty Lou Winkey and Dorothy Dickerson for their recent donations.

---